---
Business Continuity
Business continuity management (ISO 22301) is an organization's ability to ensure operations and core business functions are not severely impacted by a disaster or unplanned incident that take critical systems offline. Business continuity planning is the interdepartmental process, often led by information technology, of implementing the tactics used to restore normal business in a set amount of time, define the amount of data loss acceptable to the business, and communicate critical information to organizational stakeholders during and following incidents.
Organizations implement management systems to improve their operations and enhance their business performance, while also increasing customer satisfaction. An organization may have several management systems in place, such as a quality management system, information security management system, business continuity management system.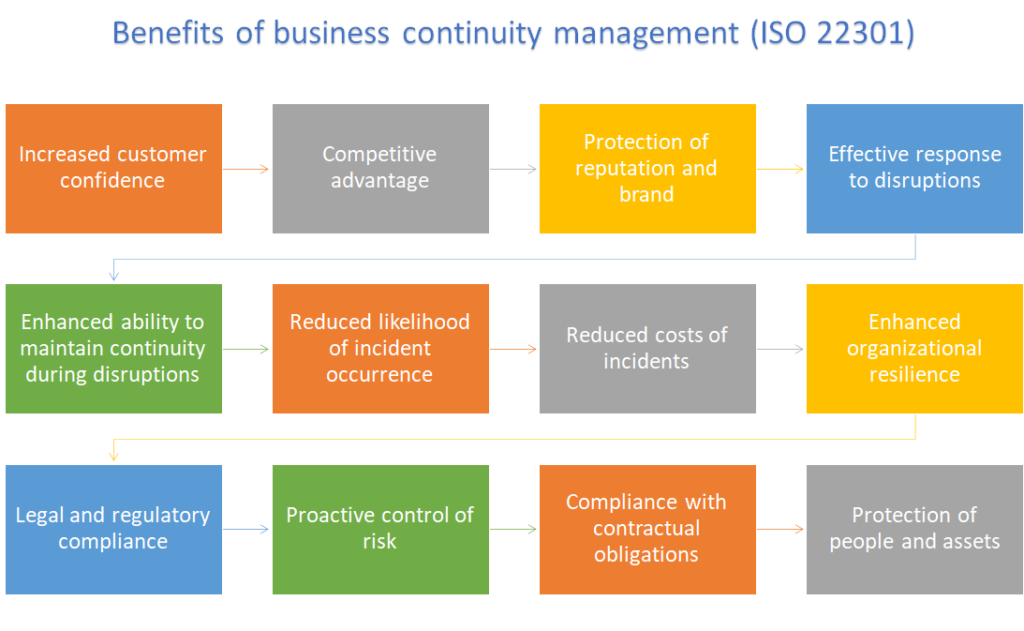 Resilience
Organizational resilience refers to an organization's ability to prepare for and respond to changes and challenges in order to thrive and grow. OR Organizational resilience refers to an organization's ability to stay above the seas of significant business disruption, be those in the form of storms, business disasters (fire/flood/etc.), or even global pandemics.
resilience can be defined into two narrower subcategories, that include –
Defensive: The ability to stop bad things from happening
Progressive: The ability to make good things happen through adversity
ISO 22316 explains the nature and the scope of resilience, which helps you and your organization to enhance resilience in a world that is changing every day. Organizational Resilience is the organization's ability to anticipate, respond and adapt to unexpected disruptions. As an international standard, it provides guidance to improve organizational resilience regardless the size and type of public or private organizations, and does not specify the industry or sector.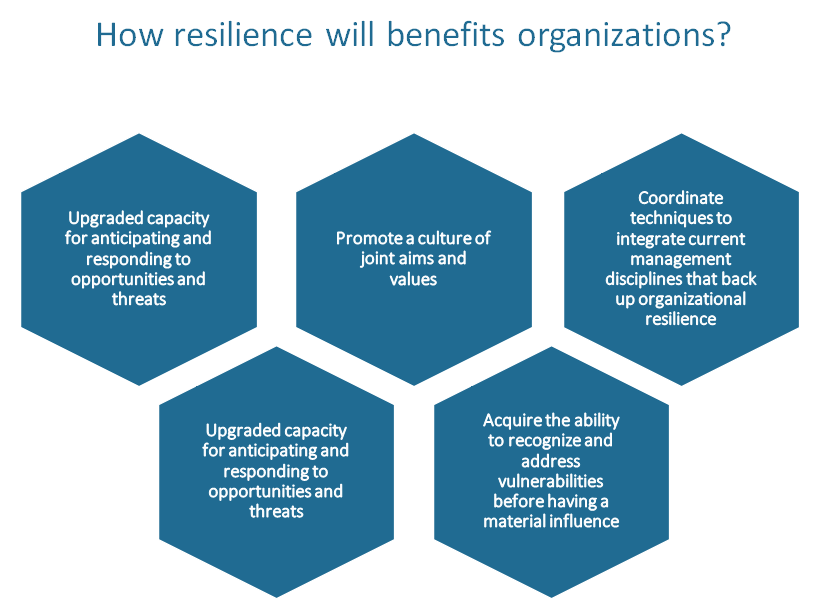 Recovery
Disaster recovery planning may very well be one of the most critical and essential obligations of the internal IT department. Effective planning encompasses multiple factors, including the types of "disaster events" to be addressed, as well as related needs and capabilities for recovery and response. To do a good job, you need to understand business needs, technical needs, organizational objectives and the overall substance of the strategic IT vision Disaster Recovery includes policies and procedures aimed at protecting an organization from human or naturally triggered disruptions on the IT infrastructure.
Why disaster recovery is important?
Investing in a disaster recovery solution can save your entire business in the event of a disaster. Like cybersecurity, it is a necessary requirement of operating in a digital age. The costs should be calculated into the savings and efficiencies gained from digital transformation, and with cloud disaster recovery software making it easier than ever to set up and manage, there's no better time. Doing so opens up opportunities based on the security and safety of your data.
5 Reasons
Cybercrime
Natural disasters
Terrorism
Hardware failure
Human error
Related Products